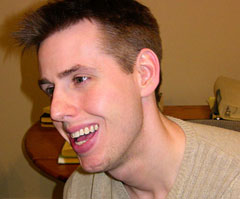 My name is Dusty Dean.
I'm a Web business analyst and Founder/CEO of BitCadet.
This is my personal website and blog where I share mixed media, short notes and occasionally longer posts related to personal interests and curiosities.
Some recurring themes you'll discover here are technology, finance and exploration.
Since my early days on the Web I've been inspired by its ability to educate, connect businesses with new customers and inspire others to take action.
I'm a voracious reader, observer and discoverer who enjoys working with others to solve challenges in innovative ways.
I founded a company called BitCadet. BitCadet is a full service Web marketing company that helps businesses increase their sales and leads through smart Web marketing, Web analytics and conversion rate optimization.
You'll find my blog posts and videos related to BitCadet on the BitCadet blog.
I enjoy speaking with marketing professionals, business executives and professional organizations about the ROI benefits of web marketing and website optimization services.
I look forward to connecting with you and encourage you to visit my Contact page and send me a message.